At Baldivis Board Games we aim to provide a space for like minded people to come together and enjoy a board game. Whether you're brand new to the hobby or a veteran we would love for you to join us and share in a night of good fun and laughs.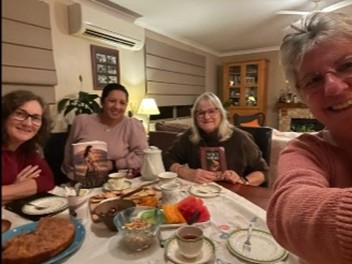 The HopeCCB Ladies Book Club meet about once a month to discuss the latest book, and to enjoy fellowship and food! We generally read Christian fiction books/series, or occasionally non-fiction books. All are welcome to join in!
An important part of our church life is supporting each other in times of need, or to just bless one another with some home cooking! We use the 'Take Them A Meal' app to organise meal rosters. This is generally for when there is illness within the community, hospitalisations, for families with a new baby, or any other time when meals will be helpful. Our administrator looks after this ministry. If you would like to be on the contact list to help, or if you are aware of a need in the church or community, get in touch.
Run by Paradox Transformation Centre, C.R.E.W provide Emergency Relief for homeless and struggling people in Rockingham and Kwinana.
Hope Community Church Baldivis is a ChildSafe organisation, and we are committed
to providing a welcoming and 'child-safe' environment, culture and programs for
children and their families who attend Hope CCB programs.
All children who come to Hope CCB have a right to feel and be safe. All our staff
and volunteers involved in children and youth ministries have been screened with
Working with Children Checks, referee checks, completed 'Child-Safe' training, and
are known to our church leadership for more than 12 months.
We have clear expectations to guide the behaviour of adults towards children and
this is outlined in our Child-safe Code of Conduct (available here).